---
Accommodation - KUBOS - 1500 pesos (4 pax) - with NO fan or 2000 pesos WITH A FAN
---
The Kubo is the traditional Filipino bamboo and Nipa palm hut that is still common in rural areas. In warm weather they take advantage of any tropical breeze, but are also dry and cosy if it rains. The walls and flooring are made of bamboo while the ceiling, roof is made of Nipa.
The bedroom is double walled with sawali, which is a mat made from woven split bamboo. Sawali has been used for centuries to make walls in Filipino houses.
Our Kubos are PHP1500 per night with NO FAN or PHP 2000 WITH a FAN, and can sleep up to four people in double upper and lower bunk style beds. (More than 4 pax in a Kubo - PHP250 / head)
Each Kubo, has its own sala, which in a western style house is like a patio. This is where you can relax in the shade and chat or play cards, or just enjoy the ambience of your tropical island retreat.
At the moment we have 3 kubos available and each has its own light powered by solar.
---
ACCOMMODATION and RATES at Isla Verde tropical Friendly Resort
---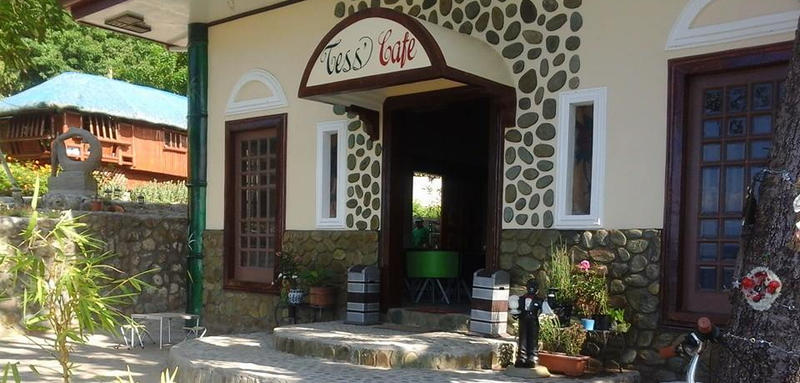 ---
---
Meals and Catering
---
IslaVerde Tropical Friendly Resort is home to Tess' Cafe, Here you can relax and enjoy a meal and light refreshments. The meals served have been caled 'delicious' and 'colourful'. Everybody loves dining at Tess' cafe.
You will find things like Relyenong Bangus (stuffed milkfish), Sinaing na Tulingan (braised fish), Salads and various other traditional Filipino dishes, along with dishes inspired by other countries.
A cafe meal is typically a cup of rice, 2 main dishes, soup and dessert. Breakfast is bread with cold cuts, drinks (coffee, juice, milk) and fruits. Green tea is served for free with meals.
There is no set menu as food choices depend on what can be sourced fresh here on the island and from Batangas markets.
---