---
Accommodation - CAMPING 300 pesos (2 pax) 600 pesos (4pax)
---
Do you like to get even closer to nature on a holiday? What better way than to combine Hiking, Island Hopping, Snorkelling and Fishing, with the simple pleasure of sleeping in a TENT. At night you can hear the sounds of nature, and the breeze through the trees. In the evening after a day of activities you can sit around and chat or sing and simply relax in the fresh sea air.
We decided to make an area for tent accommodaton at the rear of the resort, up on the hill under shady trees. There is a shared basic bathroom facility and bonfire fireplace with seating. (There is a small charge for preparing the bonfire)
We have 2 person tents available for PHP300 per night and 4 person tents available for PHP600 per night.
Bedding is available for each tent for PHP200
There is a campsite entry fee for each adult of PHP100
Some extras available for camping out:
- Bonfire PHP100
- Barbecue Set PHP100
- Charcoal PHP20 (or bring your own)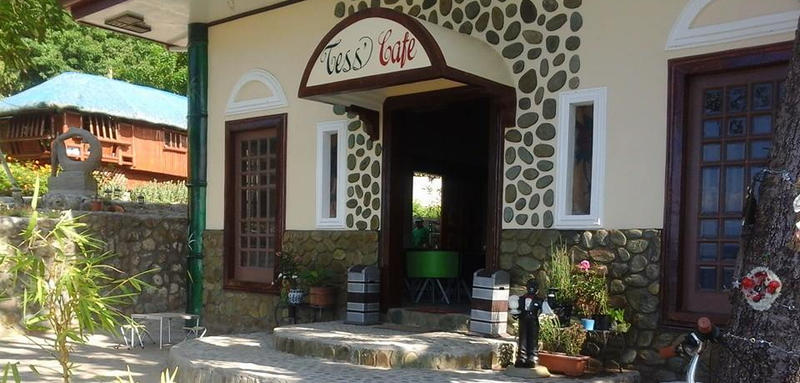 ---
---
Meals and Catering
---
If you don't feel like campfire cooking, you can order a meal at Tess' Cafe. Everybody loves dining at Tess' cafe.
Some popular meals may be Relyenong Bangus (stuffed milkfish), Sinaing na Tulingan (braised fish), Salads and various other traditional Filipino dishes, along with dishes inspired by other countries.
A cafe meal is typically a cup of rice, 2 main dishes, soup and dessert. Breakfast is bread with cold cuts, drinks (coffee, juice, milk) and fruits. Green tea is served for free with meals.
There is no set menu as food choices depend on what can be sourced fresh here on the island and from Batangas markets.
---